President's Address
2013-2014 President: Doctor Yukio Ishikawa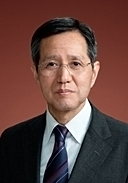 Graduate School of Agricultural and Life Sciences, The University of Tokyo
I am honored to assume the presidency of the Japanese Society of Applied Entomology and Zoology for two years from April 2013. I am fully aware of the responsibility of steering the Society, and determined to devote myself to its administration. Fortunately, since the majority of the previous standing committee members are to remain in office, I think that the experienced and capable management of the Society is assured. Furthermore, I expect that the participation of three new members in the standing committee will provide the administration with fresh ideas and viewpoints.
I have been a member of the Society for more than 30 years. Every time I have attended the annual meeting of our Society, I have been impressed by the diversities of our members. A large proportion of members are conducting basic research using insects as model organisms, while others are coping with pests of agricultural importance to promote crop production. It is needless to say that many members are dealing with organisms other than insects. The gathering of many researchers from different disciplines and with varying interests during the annual meeting certainly provides an opportunity to exchange diverse views and thoughts, and rapidly promote innovative ideas. With regards to the annual meeting, I am particularly impressed by the enthusiastic discussions between young presenters, who are mostly students, and audiences during the poster sessions. I am convinced that incorporation of the energy of students into our Society would greatly enhance its general activities. The standing committee will do its best to think of measures to achieve this.
Two years have passed since the publisher of our Society Journal, Applied Entomology and Zoology (AEZ), was changed to Springer. To further promote the reputation of the journal, now is an important time to focus every effort to make the journal more attractive to potential contributors worldwide. The editorial office, under the leadership of the Chief Editor, Dr. Tetsuo Goto, will adopt measures to shorten the time required to make a decision on the publication/rejection of submitted manuscripts. As the first step to achieve this and also cope with the ever-increasing number of manuscripts submitted, we increased the number of Associate Editors of AEZ from three to four.
The number of members is gradually decreasing with an associated increase in their average age. To maintain and enhance the activities of our Society, we must constantly recruit young members. To achieve this, it is crucial to make the society more attractive to younger generations. Although there is no easy way, we must make every effort to achieve this in order to secure the future of our Society. The understanding and cooperation of all our members are heartfully appreciated.
» Home